Asshole Fever - Take an Anal Break
Only €22,40

Instead of €29,90
Starring:
Kristof Cale
, Shalina Devine, Nicole Love, Lana Roy, Kira Lord, Raul Costa
Category(ies): Anal, Ass Licking (Rimming), Oral, sperm, straight
Specials: Chapter-selection, Multi-Language Menu, Original Sound, Photobooks, Trailers
Origin : Canada
Run time: 121 min.
Image format: 4:3 (NTSC)
Region encoding: Code Free
Age classification: Not specified
Scenes: 4
Sound: Stereo
Availability:

Immediately deliverable
Shalina Devine starts admiring her sexy body, her boobs and curves, she's gearing up to go to work. She quickly prepares breakfast for her and her husband but when Kristof Cale shows up, the cute breakfast plans quickly change to something more sexual and sweet. Nicole Love is a naughty colleague. She puts a butt plug in her ass and waits for Kristof Cale to remove it and fucks her and enjoyed some anal sex! Smoking hot Lana Roy is eager for some quality time with her boyfriend Raul Costa. Lana seduces him with her ass and sexy lips. She sucks his cock then bends over for a deep anal pounding. Sexy redhead Kira Lord is ready to experiment with anal sex with Kristof Cale. After a wet rimjob, her ass is ready to receive Kristof Cale. After a wet rimjob, her ass is ready to receive Kristof's big dick and to reach a new level of pleasure.
Customers who bought 'Asshole Fever - Take an Anal Break' also bought:
Artikelempfehlungen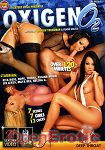 -59%Only €8,95Instead of €21,90
Deep throat is one of the hardest things that chicks do on guys, and maybe that's why it's so popular. Sometimes it's hard for men to...